Noida Police Tenant Verification online.
How to fill Tenant Verification form with Noida Police in Uttar Pradesh to Verify Tenant. Steps to submit Tenant Information with Noida Police, UP.
You can fill Tenant Verification online with Noida, Police, Uttar Pradesh for registration and verification of your Tenant by using the website of Noida Police. The law makes it compulsory for landlords to fulfill police verification of their tenants. Under Section-188 of the Indian Penal Code (IPC) which concerns the violation of order rightfully declared by a public servant, a convict may be "punished with simple imprisonment for a term which may extend to one month or a monetary penalty of Rs 200 or with both; and if such disobedience causes or trends to cause danger to human life, health or safety, or causes or tends to cause a riot or affray, shall be punished with imprisonment of either description for a term which may extend to six months, or with fine which may extend to one thousand rupees, or with both".
Steps to fill Tenant Verification form with Noida Police
Step 1: Visit the website of Noida Police http://noidapolice.com/web/
Home page of website with the following Menu will open
Step 2: Click on Tenant Verification (use this link to open)
The following form will open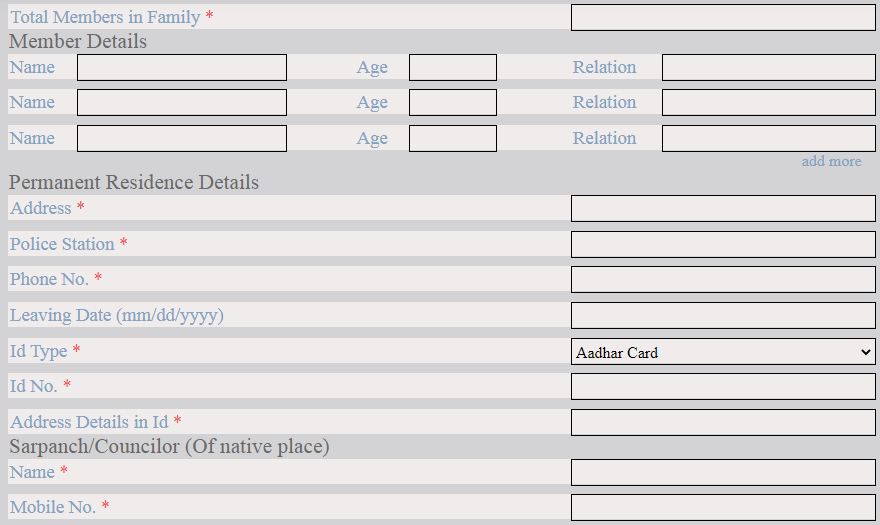 If you want to fill the form in Hindi, you can chose it from the menu at left corner
Step 3: Fill Landlord Details
Name, Office Address, Phone No. (Office), Permanent Address, Mobile No.
Step 4: Fill Tenant Details
Name, Father's Name, Office Address, Phone No. (Office), Mobile No. (For verification code), Email-ID, Current Address, Total Members in Family.
Step 5: Attach Image of Documents
(ID proof etc, Maximum Size 100 KB)
Step 6: Fill Family Member Details
Name, age and relation of family members
Step 7: Fill Permanent Residence Details
Address, Police Station, Phone No., Leaving Date (mm/dd/yyyy)
Step 8: Select Identity Proof Type, Enter Id Number and Address detail in ID
Step 9: Sarpanch/ Councilor (of native place)
Name and Mobile Number
Step 10: Fill Permanent Address
Step 11: Click on Submit Details
Note: Information given here is to help and guide those who do not have knowledge about lodging complaint with cyber cell. We are not responsible for any mistake or error. This is a website to provide free information and we do not charge any amount from any user. Trade marks and copy rights are of respective websites.