Mumbai Police Tenant Registration online for Tenant verification.
How to Register Tenant with Mumbai Police. Steps to submit Tenant verification form with Mumbai Police and Procedure.
Tenant information in Mumbai can be registered online with Mumbai Police. Tenant verification is done by the police. The main intention is to ensure they pay their rents on time, whether any criminal records or troublesome nature. Every landlord should register for tenant verification online or download Tenant Verification form and Complete formalities before handing over the house or flat keys. Under Section-188 of the Indian Penal Code (IPC) Whoever, knowing that, by an order promulgated by a public servant lawfully empowered to promulgate such order, he is directed to abstain from a certain act, or to take certain order with certain property in his possession or under his management, disobeys such direction, shall, if such disobedience causes or tends to cause obstruction, annoyance or injury, or risk of obstruction, annoyance or injury, to any person lawfully employed, be punished with simple imprisonment for a term which may extend to one month or with fine which may extend to two hundred rupees, or with both; and if such disobedience causes or trends to cause danger to human life, health or safety, or causes or tends to cause a riot or affray, shall be punished with imprisonment of either description for a term which may extend to six months, or with fine which may extend to one thousand rupees, or with both.
Steps for Tenant Registration with Mumbai Police
Step 1: Visit the website of Delhi Police Tenant information Page https://mumbaipolice.gov.in/TenantForm?ps_id=0
The following Menu will open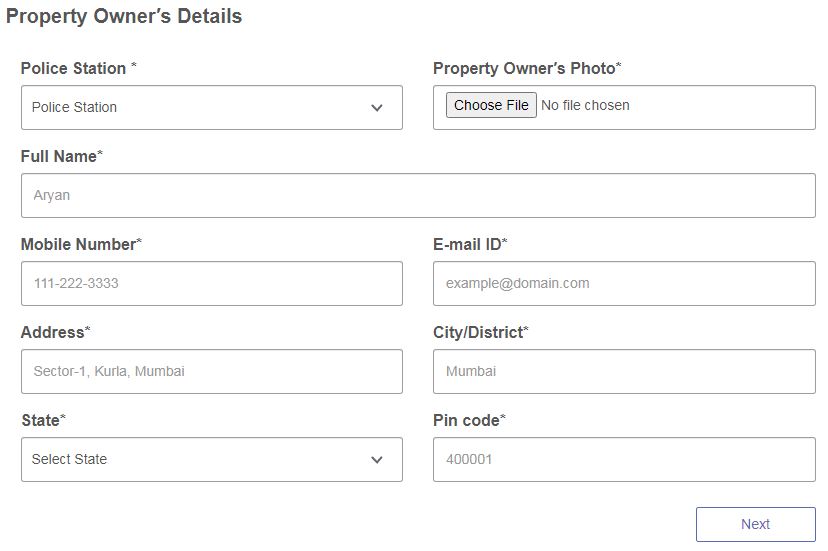 Step 2: Fill Property Owner's Information
Step 3: Attach Property Owner's Photo
Step 4: Fill Rented Property Details
Step 5: Fill Tenant's Details
Step 6: Tenant's Work Place Details
Step 7: Fill Persons Knowing Tenant
Step 8: Fill OTP Received on mobile and Verify
Step 9: Fill other required information and submit
Other Information
House/Property Owner and Tenant should confirm that Information given is True
False report to Police is a punishable offence
The homeowners address and the leased property address should not be same.
If the concerned police need to verify the information in the application, applicant/ property owner should visit the police station accordingly.
If there is a discrepancy in the information in the application, legal action can be taken against the applicant / homeowner.
Disclaimer: Information given here is to help and guide those who want to use online facility of Website. We are not responsible for any mistake or error. This is a website to provide free information and we do not charge any amount from any user. Trade marks and copy rights are of respective websites.