Goa Pay Taxes online and epay government dues
How to pay Taxes online in Goa. Entry Tax, luxury Tax, CST, VAT, TDS, etc through epayment system.
In Goa you can pay Commercial Taxes and Government dues online by using the online ePayment Gateway of Goa Government. Taxes can be paid with or without registering with the Web Portal. There is no need of visiting bank or Commercial Tax Department or any other Government Department to pay Commercial Taxes. e-payment is a mode of payment in addition to the conventional methods of payment offered by the Government of Goa. In this system On-Line Filling of single challan form facilitates minimum fields of the challan to be filled and Instant online receipts for payment made and instant online banks transaction number becomes available. payment of Personal taxes as well as behalf of the firm, company and others can be done through the system. The steps to Pay Commercial Taxes and government dues online in Goa are explained here:
Steps to Pay Taxes online in Goa
1. Generating e-Challan for Payment of Tax in Goa
Step 1: Visit the Website https://egov.goa.nic.in/ctaxechallan/onlinemainpage.aspx
A New page with the Following Menu will open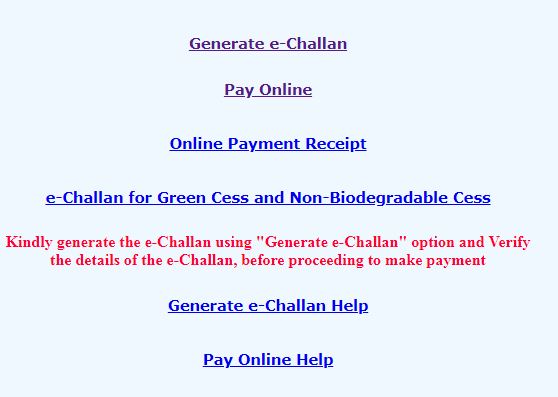 Step 2: Click on Generate e-Challan
The following Menu will open
Step 3: Fill information in the form
Select Payment : Select from the following options:
(New Registration, Un Registered enforcement, Un Registered casual, Un Registered exhibition, Registered Dealer, Sale Tax)
Select Payment Challan : Select Type of tax payment
(VAT, CST, Entry Tax, Entertainment Tax, Luxury Tax, TDS, Sales Tax)
Select Ward Office : Select your ward office from the list
Trade Name : Fill your Trade Name
Address : Fill your Address
Taluka : Select Taluka from the List
Mobile No : Fill mobile No
Email : Fill your Email ID
Step 4: Click on Proceed
Now the Following Menu will appear
Step 5: Click on Fill Required information
Period : Fill Tax Period
105 Value Added Tax : In case of VAT fill amount of Composition of Tax, Licence & Registration Fees and Interest
800- Other Receipts : Fill amount in the column of other Receipt
Step 6: Click on Generate Challan
Now your Challan will be generated online. Note down the reference Number
2. Pay Tax online in Goa
Step 1: Visit the Website https://egov.goa.nic.in/ctaxechallan/onlinemainpage.aspx
A New page with the Following Menu will open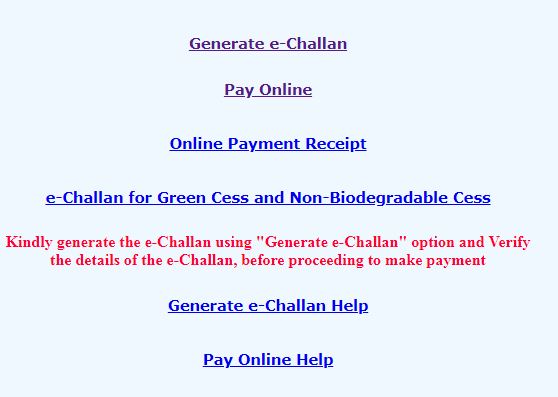 Step 2: Click on Pay Online
The following Menu will appear
Step 8: Enter Challan number Generated through the steps explained above.
Step 9: Enter Amount
Step 10: Click on initiate Payment
Now the online payment options will be displayed. Chose the payment mode and make payment as per the instructions displaying on the screen.
Step 11: Take Printout of the Online Payment Receipt
Disclaimer: Information given here is to guide and help those who do not have knowledge of using online facility to Pay Commercial Taxes online or use online facility to check status of payment etc. We are not responsible for any mistake or error or loss of amount to the user. Our website is only guiding how to use online payment facility. All payments are being done through the website of Government Department and you may contact respective department for grievances if any. This website is to provide free information to users and we do not charge any amount from any user. Trade marks and copy rights are of respective website owners.
AP Pay Commercial Taxes challan online
Assam pay taxes, Government dues online
Chhattisgarh Pay Commercial Tax online
Goa pay taxes online through epayment
Gujarat Pay Tax online through epayment
Jharkhand pay tax online Professional, VAT
Karnataka Entry Tax payment online
Karnataka Professional tax Payment online
Karnataka Entertainment tax payment online
Kerala Pay Commercial Tax online
MP ePayment of Tax through MP treasury
Odisha online payment of taxes
Punjab epayment of commercial tax
Rajasthan Pay Commercial taxes online
Telangana online Payment of Taxes
UP Commercial Tax Payment Online