Andhra Pradesh pay Commercial Taxes online
How to pay Commercial Taxes online in Andhra Pradesh through epayment system.
In Andhra Pradesh you can pay Commercial Taxes online by using the online ePayment Gateway of AP Government. Taxes like VAT, CST, TOT, APLET, APET, APPT, TDIN Payment and AP Entry Tax can be paid online. There is no need of visiting bank or Commercial Tax Department or any other Government Department to pay Commercial Taxes. e-Payment is enabled with Andhra Bank, Axis Bank, Bank Of Baroda, Canara Bank, Central Bank of India, City Union Bank (CUB), Corporation Bank, HDFC Bank, ICICI Bank,IDBI Bank Indian Overseas Bank, Kotak Mahindra Bank, SBI, SBH, Union Bank of India, Punjab national bank , Vijaya Bank. The steps to Pay Commercial Taxes online in Andhra Pradesh are explained here:
Steps to Pay Commercial Taxes online in Andhra Pradesh
Step 1: Visit the Website https://www.apct.gov.in/apportal/DlrServices/Payments/e-PaymentGeneral_New.aspx
The following page will open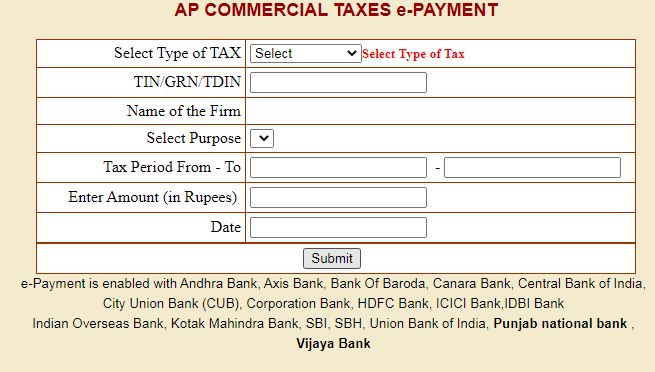 Step 2: Fill Information asked for
Select Type of Tax: Select type of Tax from the list
(VAT, CST, TOT, APLET, APET, APPT, TDIN Payment, AP Entry Tax)
TIN/GRN/TDIN: Enter your respective Tax Account Number
Name of Firm: Type Name of Firm
Select Purpose: Select Purpose from the list
Tax Period From To: Type Tax period beginning and end
Enter Amount (in Rupees): Type the amount of tax payment
Date: Type Date
Step 3: Click on Submit
Now the Payment method menu will open. You can chose payment method, Payment gateway and make payment.
Disclaimer: Information given here is to guide and help those who do not have knowledge of using online facility to Pay Commercial Taxes online or use online facility to check status of payment etc. We are not responsible for any mistake or error or loss of amount to the user. Our website is only guiding how to use online payment facility. All payments are being done through the website of Government Department and you macy contact respective department for grievances if any. This website is to provide free information to users and we do not charge any amount from any user. Trade marks and copy rights are of respective website owners.