ONLINE RTI APPLICATION FILING
How to file RTI Application Form online with Government Departments?. It is easy to file online application under Right to Information Act 2005 through internet. RTI applications/first appeals can be filed online along with online payment. Payment can be made through internet banking of SBI & its associate banks, debit/credit cards of Master/Visa and RuPay cards.
It is easy to file RTI Applications online by using internet facility and payment gateway. The applicant need not visit different offices to submit RTI applications and banks to make Demand Draft.
file Please follow the following steps to file RTI applications/first appeals by Indian Citizens for all Ministries/Departments and few other Public Authorities of Central Government.
Steps to File Online RTI Application / First appeal with Central Government Ministries / Departments and few other Public Authorities.
The following following menu will open.
Step 2 : Hit on Submit Request to file Online RTI Application
The following menu will open with guidelines for use of RTI online Portal

Step 3 : Select I have read and Understood the above guidelines (after reading the guideline).
Step 4 : Hit on Submit Button
Now online RTI Request form is opened.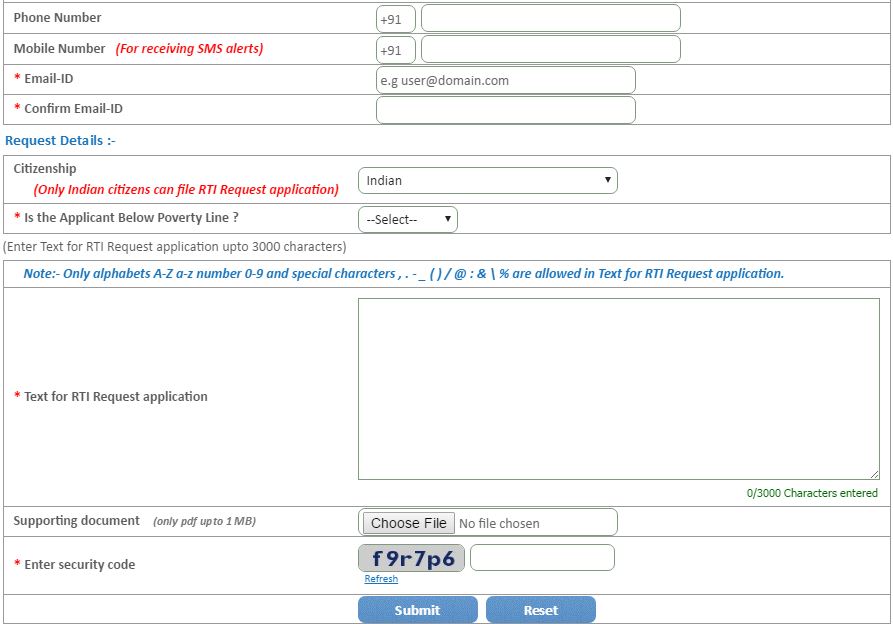 Step 4 : Fill the information asked for in the form
Fields marked red * are mandatory
Public Authority Details
Search Public Authority : Type name or part of name of public authority
Select Ministry / Department / Apex Body : Select from the list
Select Public Authority : Select public authority to which you apply
(Your request will be filed with this selected public authority)
Personal Details of RTI applicant
Name : Write full name of applicant
Gender : Select from Male, Female or Third Gender
Address : Enter full address of the applicant
PIN Code : Enter PIN Code
Country : Select India if you are from India. For others select Other
State : Select State from the List
Status : Select your status either Urban or Rural
Educational Status : Select Literate or Illiterate
Phone No : Enter Phone No of the applicant
Mobile No : Enter Mobile No of the applicant to receive SMS alerts
Email ID : Enter Email ID of applicant
Confirm Email ID : Reenter Email ID for confirmation
Request Details:
Citizenship : Select Indian or Other
Is the applicant below poverty line : Select yes or no
Text for RTI Request application : Enter your RTI request application upto 3000 characters
Supporting Document : You can attach supporting document upto 1 MB
Enter Security Code : Enter the security code displayed on the screen
Step 5 : Hit on Submit Button
Now online RTI application filling process is over. If the applicant is below poverty line the application will be accepted straight away. If the applicant is above poverty line payment gateway will be opened and the applicant can pay online the RTI application fee to complete the process.
After completion of the process the applicant will be informed through SMS / Email.
Disclaimer: We do not collect any information about or from the visitors of this website. Articles published here are only for information and guidance and not for any commercial purpose. We have tried our level best to keep maximum accuracy, however please confirm from relevant sources for maximum accuracy.
Guide to use online facilities
How to Apply online Aadhaar Card, PAN Card, FIR, Income Tax Return etc.
How to Register FIR online and get copy
How to file Income Tax Return online
Apply Passport online Check Status
How to Apply for PAN Card online
How to apply for Aadhar Card online
File RTI Application form online, Pay fee
How to Check Voter ID Status online
Consumer case status online NCDRC etc
File Complaint online with (NHRC)
How to apply for Driving License online
How to Register Complaint online NCW
Check Complaint status online NCW
Register for Government Job online NCS
File Petition online with Supreme Court
Check Traffic Challan online, pay fine
Lodge Complaint online with Cyber Cell
Covid Vaccine online Registration
Register for Covid Vaccine Guide in Malayalam