Ration Card Download online in Delhi
How to Print Ration Card online in New Delhi
You can Download Ration Card online in Delhi from the website of Department of Food, Supplies and Consumer Affairs, GNCT of Delhi. You can also take printout of your Ration Card online from the Website by providing few information related to the Head of Family and Ration Card. The steps to Download Ration Card online in Delhi are explained here:
Steps to Download Ration Card online in Delhi
Step 1: Visit the Website of NFS E-Ration Card
Home page of website with the following Menu will open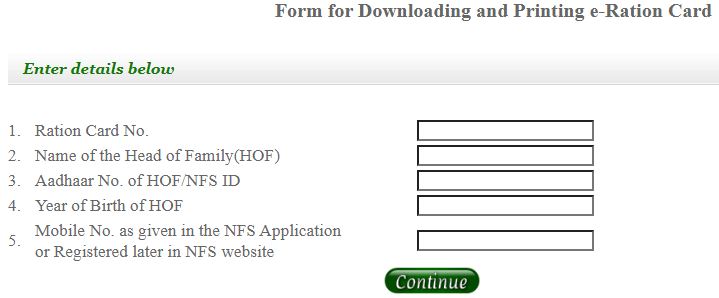 Step 2: Enter the following
1. Ration Card Number
2. Name of Head of Family (HOF)
3. Aadhaar No of Head of Family or NFS ID
4. Year of Birth of Head of Family
5. Mobile Number as given in the NFS Application or Registered later in NFS Website
Step 3: Click on Continue
Now Reference Number to Download eRation Card will send to your Mobile Number
The following Menu will appear

Step 4: Enter OTP Received on Mobile
Step 5: Enter Aadhaar Number of any other Family Member
(In case of Head of Family only, enter HOF details)
Step 6: Click on Download
Now your Ration Card will be downloaded. After download, open it and take print out of the same for further use.
Disclaimer: Information given here is to guide and help those who do not have knowledge of using online facility to apply for Ration Card online or use online facility to check status of Ration Card application. We are not responsible for any mistake or error or loss of amount to the user. Our website is only guiding how to use the portal. All payments are being done through the website of Government Department and you may contact respective department for grievances if any. This website is to provide free information to users and we do not charge any amount from any user. Trade marks and copy rights are of respective website owners.
Guide to use online facilities
Ration Card apply online in Delhi
Temporary Ration Card apply online in Delhi
Ration Card status Check online in Delhi
Ration Card Download online in Delhi
Ration Card Application download, all states
How to file Income Tax Return online
Apply Passport online and Check Status
How to Apply for PAN Card online
How to apply for Aadhar Card online
How to file RTI Application form online
How to Check Voter ID Status online
Check consumer case status online
How to file Complaint online (NHRC)
How to apply for Driving License online
How to Register Complaint online NCW
How to check Complaint status NCW
Register for Government Job online NCS
Check Traffic Challan online, Pay fine
Complaint online Cyber Crime Cell
Complaint National Consumer Helpline
Online Registration of Startup Business
Tenant, Employee, Register, PCC online
Ration Card Application form download
Online Filing of Petitions
Delhi High Court How to file Petition online
Delhi High Court How to file caveat online
Supreme Court How to file Petition online
Case Status online District, Taluka, HC, SC
User Registration for District, High Court