Password reset on Income Tax Website. How to change your password to file income tax return online?
Change of password on Income Tax Website. Reset your income tax password with these simple steps.
If you forget your password to logon to the website of income tax department, you can reset it by following few simple steps.
Steps to reset / change your password on Income tax website.
Step 1. Visit the Income Tax Department online Portal https://incometaxindiaefiling.gov.in.
Step 2. Hit on the option Login here
Step 3. Hit on Forget Password option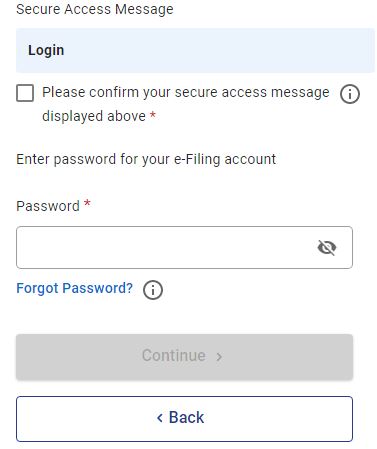 Step 4. Now the menu shown below will open
Step 4. Type your PAN in place of user ID. Enter the number shown as image. Hit on Continue.

Step 5. Chose option from Answer Secret Question, Upload DSC, Using OTP (PINs) and Using Aadhar (OTP).
If you remember the Secret question answer, chose option 1
If you want to upload Digital Signature Certificate, chose Option 2,
If your e-mail ID and mobile number are updated in the Income Tax Website, chose option 3,
If your Aadhaar Card is updated with your mobile number chose option 4
Step 6. Hit on Continue
Step 7. If you Chose the first option i.e. Answer Secret question, enter your date of birth and answer to secret question.
Step 8. Hit on Submit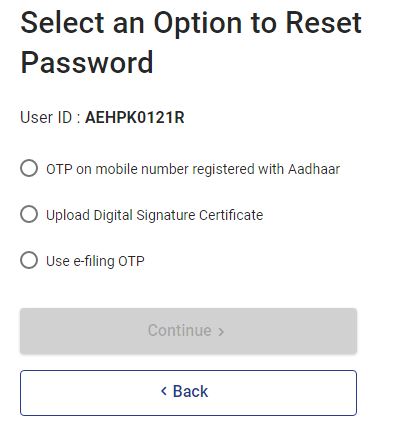 Step 9. Now a new menu will open to enter new password. Enter the desired password and confirm. Now your password is changed.
Step 10. If you chose Digital Signature certificate option select whether new DSC or registered DSC and follow the instructions to change the password.
Step 11. If you chose OTP (PINs) Option you can chose either registered e-mail id and mobile number or new e-mail id and mobile number.

If you chose registered e-mail option you will receive OTP on your mobile and e-mail. Enter the OTP received. You can reset the password and it will be activated immediately.
If you chose new e-mail ID and mobile number, you will have to give additional information like 26AS TAN, OLTAS CIN, Bank Account number Assessment year, Tax deducted etc.
Step 12. After giving the information you can enter new password. But the password will be activated within 12 hours.
Step 13. If you chose option using Aadhaar OTP, you will receive OTP on your mobile and you can reset the password.
Disclaimer: We do not collect any information about or from the visitors of this website. Articles published here are only for information and guidance and not for any commercial purpose. We have tried our level best to keep maximum accuracy, however please confirm from relevant sources for maximum accuracy.