E-verification of Income Tax Return using evc. How to e-verify income tax return online?
Online E-verification of income tax return through the website of Income Tax Department using evc.
You can e-verify the Income tax return filed online. You can also generate electronic verification code using the website of income tax department or through net banking account or Bank ATM or with the Aadhaar Card.
Steps to verify Income Tax Return using Electronic Verification Code.
Step 1. Visit the Income Tax Department online Portal https://incometaxindiaefiling.gov.in.
Step 2. If you are registered with the department website, Logon to e-filing application. If you are not registered, please follow the Steps to Register your PAN with Income Tax Department
Step 3. Select the e-filed returns/ Forms from my Account dropdown
Step 4. Hit on "click here to view your return pending for e-verification"

Step 5. Hit on e-verify.

Step 6. Chose one option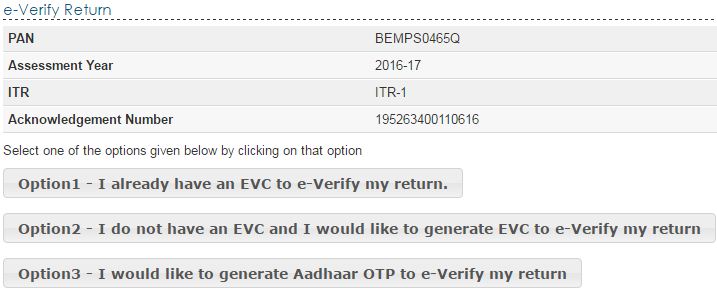 Step 7. Chose whether EVC through Net Banking, Bank Account Number or Demat Account Number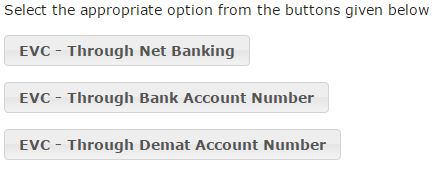 Step 8. For EVC through net banking you will have to log on to the net banking account.
Step 9. When you select option 2, you will receive the EVC to your inbox directly.
Step 10. When you select Option 3, you will be asked to link your Aadhar card with your e-filing account.
Step 11. You will see a confirmation message about your e-verification.
Step 12. Download the attachment containing income tax return acknowledgement. Now your e-filing process is complete and No further action is required.
Disclaimer: We do not collect any information about or from the visitors of this website. Articles published here are only for information and guidance and not for any commercial purpose. We have tried our level best to keep maximum accuracy, however please confirm from relevant sources for maximum accuracy.