Online filing of Income Tax Return. How to e-file income tax return online?
Online filing of income tax return through the website of Income Tax Department and downloading acknowledgement?
To file Income tax return online you have to visit the website of income tax department. The following are the process to file ITR online.
Steps to file Income Tax Return online using e-filing facility
Step 1. Visit the Income Tax Department online Portal https://www.incometax.gov.in/iec/foportal/
Step 2. If you are registered with the department website, Logon to e-filing application. If you are not registered, please follow the Steps to Register your PAN with Income Tax Department
Step 3. Enter your Login ID or PAN and Click on Continue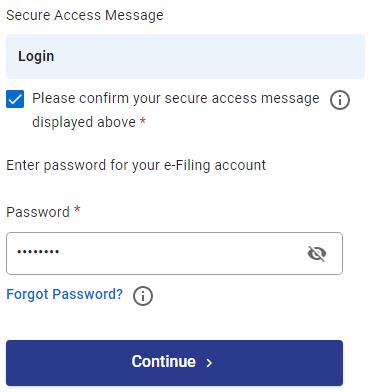 Step 4. Enter Password, click on please confirm your secure access message, and click on continue.
Now you are logged on to the website of Income Tax Department

Step 5. Click on e-File, then Income Tax Return.
The following Menu will appear
Step 6. Select Assessment year, online or offline option.
Through online option you may fill the return form online. Through offline option you may upload the return prepared through income tax utility or any other software.
Step 7. For online Filing
Click on Start New Filing
Select Assessee Type
Select form from the dropdown menu
Fill it and Submit
For offline filing
Select filing type, audited or not, and form type
Click on Continue
Step 8. Attach file and proceed for everification
After everification the acknowledgement will be generated. You may download it.
If you are not everifying the return take Printout of the acknowledgement and sign and send the signed acknowledgement to the address mentioned at the bottom through Speed post or ordinary post within 30 days.
Disclaimer: We do not collect any information about or from the visitors of this website. Articles published here are only for information and guidance and not for any commercial purpose. We have tried our level best to keep maximum accuracy, however please confirm from relevant sources for maximum accuracy.