Filing Income Tax Return through NetBanking. E-filing login through bank account. How to file your income tax return through bank account?
You can file your income tax return by e-Filing Login through NetBanking by following these simple steps.
If you want to file income tax return using Net Banking you can do it by following few simple steps.
Step 1. Visit the Income Tax Department online Portal https://incometaxindiaefiling.gov.in.
Step 2. Chose e-Filing Login Through NetBanking Option

Step 3. Now list banks providing e-Filing Login Facility will appear
Step 4. Chose your bank (Only few names are displayed here. You will get more bank names in the Income Tax Department Website)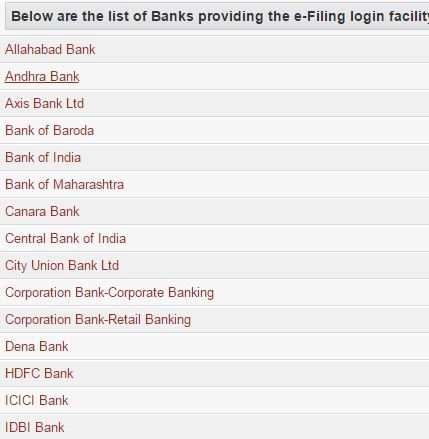 Step 5. Now you will be directed to the bank portal
Step 6. Enter user name and Password
Step 7. Now you are logged on the the Bank Portal.
Step 8. Look for Bank services option. (e.g. in Axis Bank there is menu of services)
Step 9. Chose Tax Services
Step 10. Income Tax Efiling
Step 11. Hit on terms and conditions box
Step 11. Confirm
Step 12. Now you are directed to the Income Tax e-filing portal. The options there are.
- Quick e-File ITR
- Upload Return
If you want to upload return you can do it by clicking on the Upload return option. If you chose Quice e-File ITR option
Step 13. Goto E-file option Prepare and submit ITR Online
Step 14. Select the Income Tax Return Form No. and Assessment Year
Step 15. Fill the details carefully.
Step 16. Please check whether any tax is payable or not. If payable, pay tax online.
Step 17. Click the submit button
Step 18. Goto My Account e-Filed Returns/forms
Step 19. Hit on the link under acknowledgement no of particular year
Step 20. Hit on ITR-V / Acknowledgement. Now your Income Tax return acknowledgement is downloaded.
Step 21. Open the acknowledgement with password. The password is combination of your PAN and Date of birth e.g. PAN01121984
Step 22. Take Printout of the acknowledgement and sign
Step 23. Send the signed acknowledgement to the address mentioned at the bottom through Speed post or ordinary post.
Alternately you can e-verify the acknowledgement by following process of e-verification.
Disclaimer: We do not collect any information about or from the visitors of this website. Articles published here are only for information and guidance and not for any commercial purpose. We have tried our level best to keep maximum accuracy, however please confirm from relevant sources for maximum accuracy.