Foreign Citizen Apply PAN Card online through UTIITSL. How to get Income Tax Permanent Account Number to Foreign Citizen through UTIITSL (UTI Infrastructure Technology and Services Ltd) online?.
If a Foreign Citizen want to apply for a new Tax Permanent Account Number (PAN) through UTIITSL (UTI Infrastructure Technology and Services Ltd) he can apply for the PAN Card online.
To apply for PAN Card for Foreign citizen online from UTIITSL, you have to keep handy the supporting documents at the time of applying PAN. When you open the website of UTIITSL to apply for a new PAN Card, four options will appear at the left side. They are 1. Apply as an Indian Citizen / NRI, 2. Apply as Foreign Citizen, 3. For Change / Correction in PAN Card, 4. Track PAN Card Application Status.
Steps to apply for PAN Card by Foreign Citizen online through UTIITSL
1. Open UTIITSL website to To apply for a new PAN Card through UTIITSL website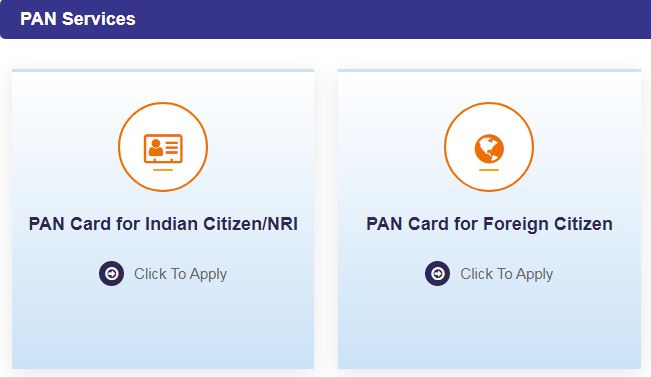 2. Hit on Apply as Foreign Citizen
When you Hit on Apply as Foreign Citizen another web page will open like shown below:
3. Hit on Apply for New PAN Card (Form 49AA). When you Hit on Apply for New PAN Card (Form 49AA) the online form page will open
4. Chose Status of applicant from drop down menu. i.e. Individual, Partnership Firm, Body of Individuals, Hindu Undivided Family, Association of Persons, Body of Individuals, Local Authority, Company, Trust, Artificial Judicial Person, Government Authority or Limited Liability Partnership.
5. Fill other relevant information
6. Fill Source of Income
7. Chose documents attached for address proof, identity proof and date of birth
8. Fill capacity of applicant i.e. Authorised signatory, director, himself/herself, Karta, Partner, Representative Assessee or Trustee
9. Hit on Submit Button
10. If you have filled all information correctly, a preview of the information filled by you will be displayed. If the information not filled correctly, the unfilled fields will be displayed in red. In that case make necessary modification.
11. If the information is ok please strike on submit button.
12. Please make payment online or chose for demand draft.
13. Now the online PAN application is generated.
14. Please wait to get generated the Acknowledgement
15. Take the Printout of acknowledgement.
16. Affix Photograph
18. Attach Copy of Passport / Identity Proof/ Address Proof
19. Sign on the space provided for signature
20. Send the document through courier to the address mentioned on the acknowledgement or send it to the collection center. The envelope should contain the word Application for Allotment of PAN Acknowledgement No. _____.
When UTIITSL office receive the PAN Application, you will get information through e-mail / mobile acknowledging the receipt of application form.
You can check status of your application online through UTIITSL PAN Status online
Within few days the Original PAN card will be delivered at your address.