Chhattisgarh State Women Commission Registering Complaint online with Chattisgarh Mahila Ayog. How to file petition with CSMC.
You can file complaints online with Chhattisgarh State Women Commission related to Murder, Dowry Demand, Domestic Violence, Property Dispute, Physical torture, Rape, Robbery, Torture, Mental Torture and other Complaint etc by using the website of Chattisgarh State Manila Ayog (CSWC). Guide to file complaint online with Chattisgarh State Women Commission is explained below:
Steps to file Complaint online with CSWC
Step 1: Visit the Website of CSWC by using the link http://cgmahilaayog.com/
The following menu will open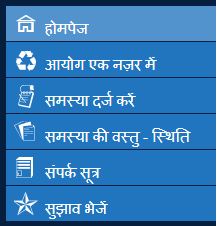 The following Menu will appear: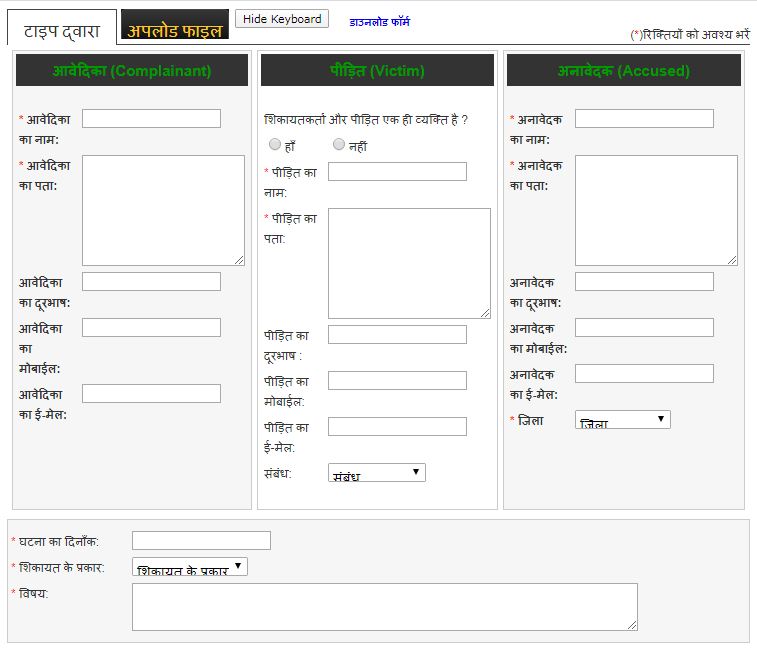 If Your are filing Complaint by typing
Step 3: Enter the information Related to Complainant
Step 4: Enter Information Related to Victim
Step 5: Enter Information Related to the Accused
Step 6: Enter Date of Incident
Step 7: Chose the Complaint type from List
Step 8: Write Subject
Step 9: Describe the incident
Step 10: If you want to upload file, chose the file and upload
Step 11: Click on Submit Button
Now your Complaint is uploaded. You will get acknowledgement of the Complaint online and you can track the complaint status by using the reference received online.
If you want to file Complaint by uploading file
Step 1: Click on Upload File option
The following menu will open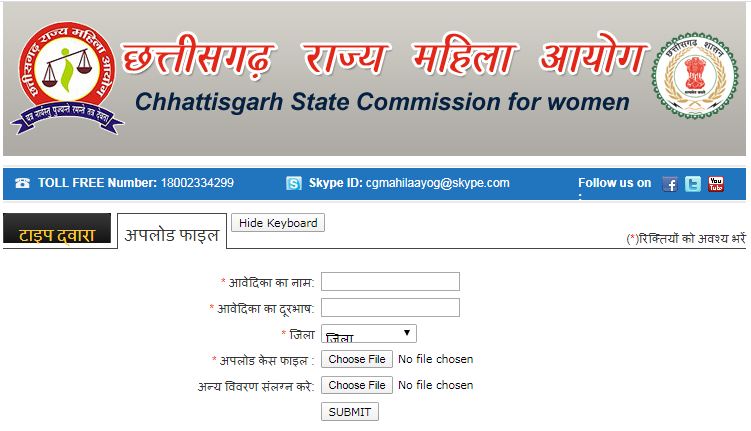 Step 2 Fill the name of Complainant
Step 3: Fill Mobile No
Step 4: Chose District from the List
Step 5: Chose case file if any to upload
Step 6: Chose other description file to upload
Step 7: Click on SUBMIT Button
After completing the above process your complaint with Chhattisgarh State Mahila Ayog is will be registered and you will get acknowledgement. You can use the acknowledgement reference to check status of the case.
Office Address and Contact of Chhattisgarh State Women Commission
E-Mail : [email protected] [email protected]

Telephone No: 0771-2429977,4013189
Fax No: 0771-2433488
Toll Free No: 18002334299
Address: Office, State commission for women Gayatri Bhawan, 13 Jalvihar Callony Raipur (C.G.)