PF how to withdraw online
How to withdraw full Provident Fund and Pension Fund online
Provident Fund Subscribers can withdraw PF online from their PF account by using the online facility. Complete amount in the Provident Fund account can be withdrawn in the following circumstances:
1. If the Member is unemployed for more than 2 months
2. On Retirement of Member
75% of the PF amount can be withdrawn if the member is unemployed for one month.
50% of the PF amount can be withdrawn incase of education, Purchase of land, Marriage and construction of house etc.
Steps to withdraw EPF online through EPFO Portal
Step 1: Visit the Website https://www.epfindia.gov.in/site_en/index.php
The following page will open

Step 2: Click on Services
Step 3: Click on Employees
The Following Page will open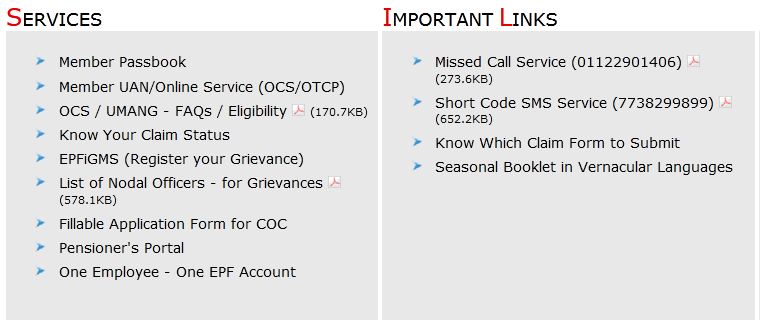 Step 4: Click on Member Passbook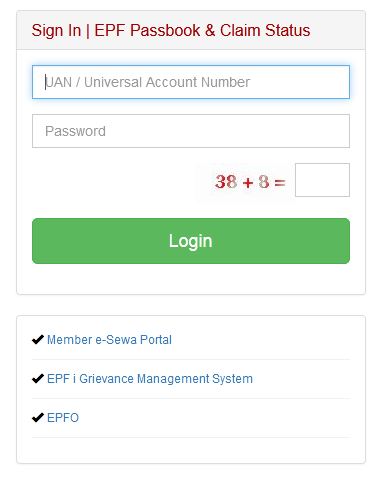 Step 5: Enter Universal Account Number (UAN), password and digital check
Step 6: Click on Login
The following Menu will open

After login you can check the balance of your PF account online.
Step 6: Click on Manage and Check KYC Details
Step 7: Click on Online Services then Chose Claim Option and chose type of withdrawal claim you want to file. The options are full withdrawal, partial withdrawal or pension withdrawal under the section I want to apply for.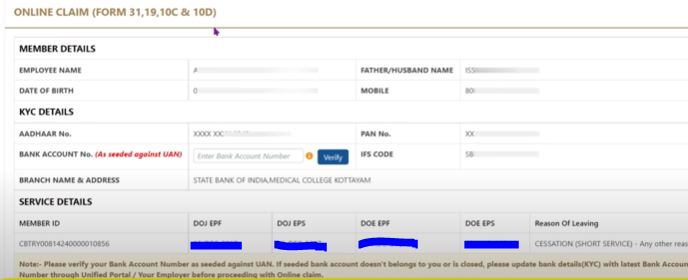 Form 31 - For PF Advance
Form 19 - For complete withdrawal of PF when you are unemployed
Form 10C - For withdrawal of Pension amount
Form 10D - For withdrawal of PF on retirement
Step 8: Enter Date of exit on EPF and Date of Exit on EPS
and Chose reason for leaving
Step 9: Enter Bank Account number and click on Verify
Step 10: Click on Proceed for online Claim
Step 11. Chose forms for withdrawal
(Chose PF form and Pension form for complete withdrawal)
The following Menu will appear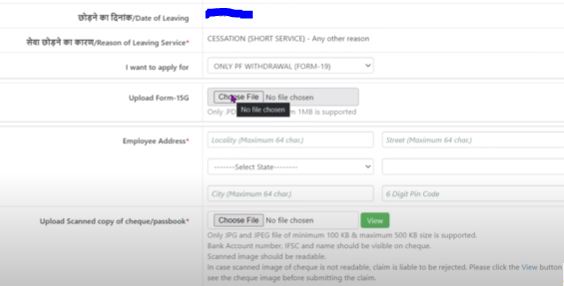 Step 12: If you want to claim exemption from Tax deduction, please upload form 15G
Step 13: Enter employee address
Step 14: upload scanned copy of cheque as JPG image

Step 15: Click on Verification Tick Mark
Step 16: Click on Aadhaar OTP and Enter OTP
Step 17: Click on Validate OTP and submit Claim form
Now your PF withdrawal Claim form is submitted
Step 18: Download acknowledgement form. You can use the number to check status.
Disclaimer: Information given here is to guide and help those who do not have knowledge of using online facility to withdraw Provident Fund Balance online. We are not responsible for any mistake or error or loss of amount to the user. Our website is only guiding how to use the online facility. This website is to provide free information to users and we do not charge any amount from any user. Trade marks and copy rights are of respective website owners.