PF Balance Check online
How to check EPF Balance online by employees
Provident Fund Subscribers can check balance in their PF account by using different methods.
1. Check EPF Balance by using EPFO Portal
Provident Fund subscribers can check PF balance by using EPF portal and Universal Account Number (UAN). For accessing PF account services, PF withdrawal, Checking PF balance, EPF loan application etc UAN is very important. Steps to check Provident Fund balance through the EPF portal is as follows.
Steps to check EPF Balance online through EPFO Portal
Step 1: Visit the Website https://www.epfindia.gov.in/site_en/index.php
The following page will open

Step 2: Click on Services
Step 3: Click on Employees
The Following Page will open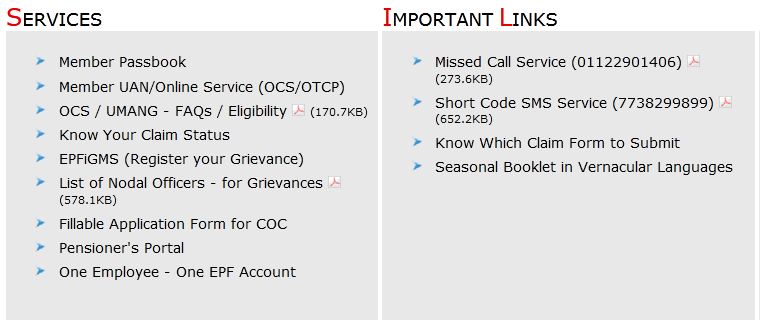 Step 4: Click on Member Passbook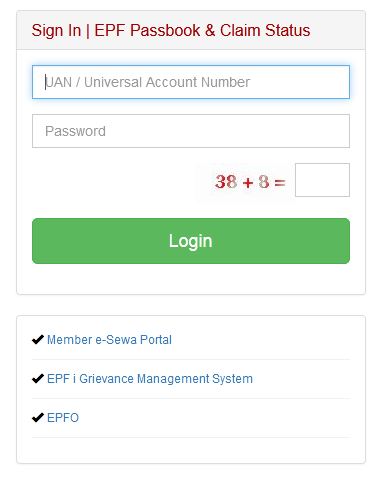 Step 5: Enter Universal Account Number (UAN), password and digital check
Step 6: Click on Login
After login you can check the balance of your PF account online.
2. Check PF Balance by sending SMS
You can check PF balance by sending SMS to 7738299899. The message should be in the format EPFOHO UAN (Universal Account Number) ENG (3 Letters of preferred Language). The languages available are English, Hindi, Punjabi, Gujarati, Marathi, Kannada, Telugu, Tamil, Malayalam, and Bengali. Steps to check PF Balance by SMS. To get PF balance online:
Send SMS to Mobile Number 7738299899 in the format EPFOHO UAN ENG
3. Check PF Balance through missed call
To receive PF Balance through missed call:
Give a missed call to 011 22901406 from your registered mobile number.
You will receive SMS showing the PF Balance.
4. Check PF balance by using the Umang / EPFO app
To check PF Balance through Umang/EPFO app:
1. Download the "m-Sewa app of EPFO" from the Google Play Store
2. Click on Member and go to Balance / Passbook
3. Enter your UAN and Registered Mobile number
If the information is correct your EPF balance will be displayed.
Disclaimer: Information given here is to guide and help those who do not have knowledge of using online facility to check PF Balance online or use online facility of PF related services. We are not responsible for any mistake or error or loss of amount to the user. Our website is only guiding how to use the online facility. This website is to provide free information to users and we do not charge any amount from any user. Trade marks and copy rights are of respective website owners.
Online works, how to do
Register FIR online and get copy of FIR online
How to file Income Tax Return online
Apply for Passport online and Check Status
Apply for PAN Card online and Check Status
Apply for Aadhar Card online and update data
RTI Application form online and fee payment
How to Check your Voter ID Card Status online
Check consumer case status online NCDRC etc
Police Websites in India & Other Countries