NPS Open Account online
How to open National Pension Scheme Account Online.
You can open online account of National Pension Scheme introduced by Government of India. Guide and steps to open NPS Account online are explained below:
Steps to open National Pension Scheme Account
Step 1: Visit the Website of National Pension System Trust
Step 2: Click on Online Services then I want to open an NPS Account
The following menu will open
Step 3: Click on NSDL or KFINTECH
If you click on NSDL the following menu will open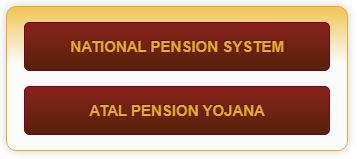 Step 4: Click on NATIONAL PENSION SYSTEM
The following menu will appear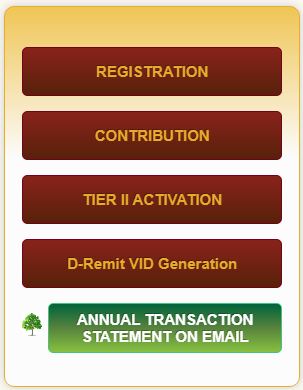 Step 5: Click on Registration
The following menu will appear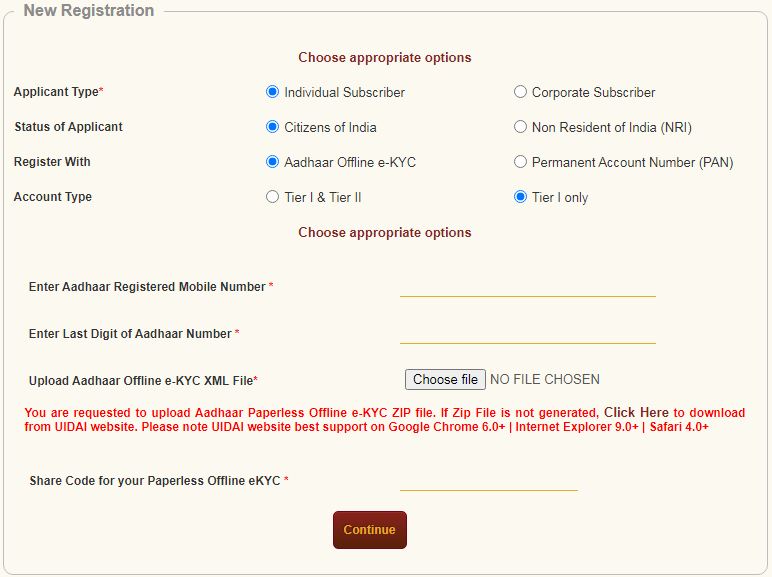 Step 6: Fill information asked in the menu
Applicant Type : Choose Individual or Corporate Subscriber
Status of Applicant : Choose Citizen of India or Non Resident (NRI)
Register with : Choose Aadhaar offline -e- KYC or Permanent Account Number (PAN)
Account Type : Choose Tier I & Tier II or Tier I only
Enter Aadhaar Registered Mobile Number: Enter your mobile Number given for Aadhaar
Enter Last Digit of Aadhaar Number : Type last digit of Aadhaar Number
Upload Aadhaar offline e-KYC XML file : Choose and attach Aadhaar e-KYC xml file
Share code of your paperless offline e-KYC : Type Code Number
Step 6: Click on Continue
Step 7: Fill Personal Details
Fill Name, Father Name, Gender, Mother Name, Date of Birth, Place of Birth, Country of Birth, Marital Status, Name to be Printed on Pran Card, Mobile Number, Email ID, Identity Details and Proof of Identity etc.
Step 8: Enter Security Code showing in the Screen
Step 9: Click on Proceed and Ok
Step 10: Fill Contact Details
Fill required information
Fill Communication Address and Permanent Address
Fill Other Details
Occupation Details
Educational Qualification
Income Range (Per annum)
Step 11: Fill Bank Details
Bank Name, Bank Account Number and IFS Code, Bank Address
Scheme Preference Details
Choose Pension Fund Manager
Choose Investment Option
Step 12: Fill Nominee details
Step 13: Upload Documents, Photo and Signature
Step 14: click on Save
Step 15: Fill Payment Details
First Time Tier I Contribution Amount
First Time Tier II Contribution Amount
Step 16: Click on Confirm Payment, Click on Declaration tick box
Step 17: Click on Make Payment
Complete payment process through payment gateway. Now you will get acknowledgement for the payment made.
Step 18: Take Printout of the form and courier it to the address given on it within 90 days. After receipt of the form, the department will send you a letter with registration information. Now your registration with National Pension Scheme is Complete.


Documents Required of National Pension System Registration
- PAN Card
- Passport Size Photo
- Scanned signature
- Address Proof
Disclaimer: Information given here is to guide and help those who want to know about registering with National Pension Scheme Online. We are not responsible for any mistake or error. This is a website to provide free information and we do not charge any amount from any user. Trade marks and copy rights are of respective website owners.
Investment Guide
Register for National Pension Scheme online
National Savings Certificate (NSC)